Rafting in Åsengjuvet
Adresse: Heidalsvegen 829, 2677 Nedre Heidal
Karte anzeigen
Adresse: Heidalsvegen 829, 2677 Nedre Heidal

Rafting in the Åseng canyon is our most challenging rafting trip and a thrilling experience for any adventurer.
The Åseng canyon is famous for its extreme and wild nature with steep walls on both sides of the river. Normally rafting in the Åseng canyon is recommended for the experienced rafters. Many adventurers have felt their adrenaline pump extra hard here, since this is a more challenging trip than the normal daytrip in Sjoa.
We will start high up in the canyon and paddle through 16 km of foaming white water. This trip is perfect for those who want an extra kick. We wrap up the trip with a warm shower and hot lunch at our base.

Age limit: 18 years
Starting time: Kl 10.00
Total time: Ca 5 hours
Mehr anzeigen
Über diese Aktivität
Telefonnummer Reservierung

Email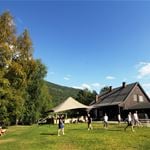 Jugendherbergen & Pensionen
Entfernung: 0 Meter
At our base we have big rooms that you can stay in which overlook the beautiful Sjoa River.