Adresse: Heidalsvegen 829, 2677 Nedre Heidal

Equipped in full river gear we follow a small river downstream. To get down we must swim, jump, rappel, and walk in the water.
Canyoning has it origin in the Alps but also in our area there are several canyons perfectly fit for this activity. Canyoning is a mix of climbing, swimming, jumping off cliffs and movement by foot down a small river running through a narrow canyon. We use ropes to get safely down the hardest sections. Swimming behind waterfalls is also possible.
This trip is moderately challenging but is suitable for everyone in good health and good strength.
Bring packed lunch.
Transport included.

Age limit: Must turn 15 by the end of the year
Starting time: Kl 10.00
Total time: Ca 5-6 hours
Mehr anzeigen
Über diese Aktivität
Telefonnummer Reservierung

Email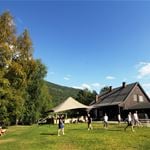 Jugendherbergen & Pensionen
Entfernung: 0 Meter
At our base we have big rooms that you can stay in which overlook the beautiful Sjoa River.